Are you or your family members sensitive to paint fumes? Consider going green with Greco Painting, Inc. We proudly offer green painting options for individuals interested in non-toxic paint and finish options. We have several types of green products including products containing low volatile organic compounds (VOCs), ultra-low-VOCs, and even zero-VOCs. We also have low odor painting supplies so you can avoid any unpleasant smells if you have a sensitivity.
If you're worried about saving the environment, we have many eco-friendly options including stains, finishes, and solvents. Our experts are trained in environmentally friendly practices. Their painting methods and disposal strategies are eco-friendly.
Greco Painting, Inc. offers both interior and exterior green painting options. Explore our environment friendly options that can help provide durability and beauty to your building while being safer for you and the environment.
Since 1977, Greco Painting, Inc. has been using the best quality products. Experience has taught us which types of products are best to use and helps us keep up on new and emerging painting green products and trends.
We offer low non-toxic paints and finishes. In addition to green paint focused on low-VOCs count, we also offer eco-friendly stains, finishes, and solvents. These are especially a good option for rooms with small children and immune comprised individuals. Consider using eco-friendly paint in the rooms where people congregate the most.. This will help ensure the safety of everyone that is under your roof.
Green Greco Painting, Inc. services and paint selections are a great choice for almost any location, including homes and businesses.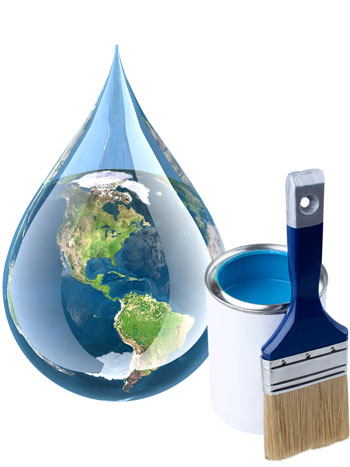 Potential Green Rooms:
• Children bedrooms
• Baby nurseries
• General bedrooms
• Playrooms
• Family Rooms
• Kitchens
• Bathrooms
• Offices